Welcome to Diane Ewing Style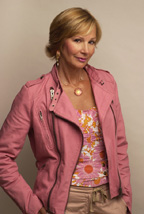 First, I would just like to say that I love my job. After 15 years, I still get a rush when the phone rings with the promise of a new, challenging project.
Whether it's finding just the right obscure prop for a tabletop shot or the craziness of huge location assignments or an out-of-town job—having props packed and shipped or arriving ahead of the rest of the crew to hunt for what's needed in an unfamiliar city—I'm up to the task. I have transformed an entire street in Aspen in the middle of August to look like a wintry Christmas scene, garlanding light poles and putting holiday displays in all the store windows. I can create an entire room set, which involves renting furniture, rugs, accessories, flower arrangements. I've even created complete kitchen and bath sets requiring floor treatments, sinks, faucet fixtures, tile or stone, and accessories.
I have terrific sources for editorial magazine photo shoots and can select merchandise to feature or pull accessories as accents in interior shots in exchange for store credit in the magazine. Maybe you have seen my name in Chicago Magazine or Chicago Home. I bring accessories that might be more photogenic than what the homeowner has on hand, to add color and interest in a large interior shot. I arrange beautiful flowers to add that special touch and then we tweak the arrangement of the furniture to camera angle. I have also done outdoor landscaping when it is called for.
Prior to my career as a photo stylist, I was a model in New York and Chicago for many years, which helped me develop a strong fashion sense. I enjoy wardrobe styling; whether it's for fashion or lifestyle photo shoots, kids or adults. I'm adept at sewing if the job calls for special costumes. I've made outfits for animals as well! From Target to Barneys, I can put together the look that you need and work within your budget.
I have recently expanded my services to offer personal shopping and home accessorizing to private clients. I can make your home look like a magazine spread! My sources include many of the showrooms in the Merchandise Mart not available to the public. I have also built up many other resources over the years from contemporary to antique. I can update your look by adding to what you already have or start from scratch and help you develop your own personal look.
In addition to home accessorizing, I do wardrobe shopping and will complete each outfit from head to toe for special occasions or seasonal updating. I enjoy putting together looks which will compliment each individual to his or her full potential. I hope to hear from you!
References
Photographers: James Imbrogno, Tony Soluri, Alan Shortall, Barbara Karant, Steve Grubman, Bill Tucker, Andrea Mandel, Dave Slivinski, Jim Krantz, Victor Skrebneski, Jean Moss, Mark Battrell, Image Studio, Jim Luning, Tyllie Barbosa, Glen Gyssler
Directors / Film Studios: Dennis Manarchy, Big Deahl, Silent Partner
Clients: Playboy Magazine, Chicago Magazine, Chicago Home Magazine, Bon Appetit Magazine, Crate & Barrel, Land of Nod, Spiegel, Chiasso, Home Depot, Sears, The Great Indoors, Land's End, United Airlines, Wamsutta, Bacardi, Phillip Morris, FTD Florist, Merillat Kitchen & Bath, Weathershield Windows, Motorola, Shake 'N Bake, Secret, Hyatt, Resort Quest, Swissotel, Blue Cross & Blue Shield, Trump Tower, Famous Footwear, Hanna Anderson.